Uniform is a response to the possible future workplace and how we might improve the efficiency of employees in various industries. As robots begin to exceed our physical and mental limits, we must ensure that people are happy and healthy in their work environments. Uniform proposes the idea of a gender neutral, active work environment in the form of a jacket that is both breathable and multifunctional. Eliminating the threat of sexual harassment with loose, non conforming structures that are gender neutral
is a way of encouraging women to remain in male dominant industries. Although I made the prototype in 45 minutes, this area of research is one I find fascinating and hope to pursue in the future.
RMIT Industrial Design, 2015
Powered by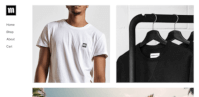 Create your own unique website with customizable templates.